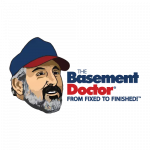 The Basement Doctor WV
From Fixed to Finished
JOB TITLE: Foreman Trainees
DEPARTMENT:  Production
REPORTS TO:  Production Manager
JOB CLASS: Non-Exempt
OFFICE LOCATION: 266 Williams Highway, Parkersburg, WV 26105
JOB SUMMARY:
Responsible for overseeing each job to completion. Reviews the job proposal and job site to determine equipment and tools needed, plan time allotment, decide workload for self and installers, and observe and prevent potential safety hazards. Takes responsibility for assembling appropriate tools and equipment, assigning tasks to installers, and moving the job toward completion to ensure efficiency and quality. Keeps in contact with customer to aid in understanding of and satisfaction with job. Responsible for completing and turning in all necessary job paperwork. Supports the management and mission of the company.
KEY PERFORMANCE INDICATORS:
Dollar per Labor Hour; Customer Service Rating
ESSENTIAL JOB FUNCTIONS:
Along with the Crew Chief, (1) assigns tasks of installer(s), (2) motivates and trains installers on proper handling of materials and tools and approved methods of installation of waterproofing and foundation repair, (3) ensures company policies and procedures, as well as safety guidelines, are followed, (4) tracks hours of installers, and (5) moves job progress to completion at a pace to ensure efficiency and quality.
(50%)
Communicates with the customer throughout the job to aid in understanding and satisfaction of work. Ensures that customer is aware of any changes to job before making any such change. Provides customers with business card and required paperwork at job completion. (20%)
Along with the Crew Chief, reviews job specifications to determine materials, tools and equipment needed for the job. Along with Crew Chief and installer(s), loads the truck with such materials, tools and equipment. ( 10%)
Along with the Crew Chief, assesses conditions of the job once on-site. Plans time allotment, tools needed and order of work, and decides workload for self and installers. Adjusts for conditions, makes changes from original job order, troubleshoots situations, innovates process on the spot in order to complete the job to meet company standards and timetables. ( 10%)
As requested/needed, communicates with the Production Manager and/or Production Department regarding the job. Ensures all paperwork is done completely and accurately and is given to the proper parties. (10%)
Regular and punctual attendance. Ability to work overtime if needed. If necessary, ability to legally drive a motor vehicle.
Able to do Pre Inspections, some evenings, on upcoming installs.
MARGINAL JOB FUNCTIONS:
Performs other related duties as assigned by management.
INDIRECT REPORTS:
lnstaller(s)
NECESSARY KNOWLEDGE, SKILLS, ABILITIES (KSAs) and TALENTS:
Knowledge of construction or related trades preferred.
Skill in operating equipment and/or power tools preferred.
Ability to speak and write in English preferred.
Ability to speak Spanish preferred.
Ability to see the "big picture," i.e. the total job and break it into steps.
Possess talent and personal traits:

Tactical Planning
Problem Solving
Work Organization
Attention to Detail
Troubleshoot
Initiative
Integrity
EDUCATION AND EXPERIENCE:
High school diploma or GED preferred;
One (1) year experience in construction trades preferred; or,
An equivalent combination of education and experience.
PHYSICAL REQUIREMENTS:
0-24%
25-49%
50-74%
75-100%
Seeing:
Must be able to see well enough to read reports,
data, statistics & information on computer screen.
 
 
 
X
Hearing:
Must be able to hear well enough to communicate
on the telephone and in person.
 
 
 
X
Standing/Walking:
 
 
 
X
Fingering/Grasping/Feeling:
Must be able to operate computer & calculator.
 
 
 
X
Climbing/Stooping/Kneeling:
 
 
 
X
PHYSICAL DIMENSIONS for Lifting, Carrying, Pushing, Pulling:
Heavy Work: Exerting up to 100 pounds of force occasionally and/or up to 50 pounds of force frequently, and/or up to 20 pounds of force constantly or to move objects.
NOTE:
The statements herein are intended to describe the general nature and level of work being performed by employees assigned to this classification. Such statements are not intended to be construed as an exhaustive list of all responsibilities, duties, and skills required of personnel so classified.