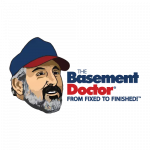 The Basement Doctor
From Fixed to Finished
Immediate opening for a Journeyman Electrician.
Come work with a company that is growing in leaps and bounds. We want you to grow with us. Apply NOW and become part of The Basement Doctor Family!
We are looking for experienced journeymen to join our team. Great pay, benefits and friendly work atmosphere. Must have at least 5 years experience in residential electrical work. Most of the work will be residential remodels and service calls. Must be able to acquire or already possess an electrical license within 90 days of employment.
Summary
The Journeyman Electrician conducts, maintains, tests and repairs electrical/electronic components. The position applies knowledge of electrical/electronic and mechanical principles in determining equipment malfunctions and applies skills in restoring equipment to operation. The electronics technician provides skilled mechanical and electrical/electronic support to all areas of the company to include outside customers.
Candidate must have the following:
Able to read blueprints, technical drawings, and diagrams and follow specifications.
Solid working knowledge of commercial and residential electrical systems
Two-year technical degree or accredited apprenticeship program or the equivalent in a technical field.
Three to five years of proven experience in the electrical/electronics, mechanical, hydraulic and pneumatic fields.
Must be able to acquire or possess an electrical license within 90 days of employment.
Three years of computer experience/operation.
Must be classified as a Journeyman in the electrical field
We provide:
Competitive Wages
Substantial Incentive Bonuses
Training
Mentoring
Certifications with potential advancements to move up in the company over time
Why work for the best:
Pay is hourly plus performance bonuses when earned.
Company-provided health, life, and disability insurance are available for full-time offers of employment.
Paid personal and sick days, holidays, and 401(k) match based on seniority.
The Basement Doctor will pay 100% for your Short Term Disability and Basic Life Insurance.
That's not all!
Free Concert and Sporting Event Tickets.
All of our Basement Doctor Team has access to free tickets to PromoWest concerts and sporting events!
At The Basement Doctor: We are a licensed general contractor that repairs basements, foundations, and crawl spaces. We've been in business for over 31 years and our customer satisfaction rating is over 95%!
You can feel good knowing that The Basement Doctor was selected as one of Columbus CEO and 10TV's Top Workplaces for 2015, 2016, 2017, and 2018! We are also very involved with our community and support places like the Ronald McDonald House, LifeTown, and Special Olympics of Ohio, to name a few!
The Basement Doctor is an Equal Opportunity Employer
OFFICE LOCATION:  
13659 E Main St. Reynoldsburg, OH 43068
PHONE:  
1-877-379-8463