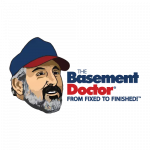 The Basement Doctor
From Fixed to Finished
The Basement Doctor, the Leader in the Basement Repair and Remodeling in Central Ohio, that pays for performance, is seeking a full-time enthusiastic service coordinator. Assists Installations Manager, Crew Chiefs, and Service Manager with any administrative needs, and coordinates service work.
Primary Responsibilities:
Answers service calls and schedules service/warranty work as needed.
Assists project scheduling as needed
 Processes finished project paperwork
Maintains and updates materials requisition forms
Scanning, filing, and maintaining all appropriate records
Enters job and inventory data
Assists Maintenance Manager and Production Admin Manager as needed
OUPS requests as determined by the production department
Coordinate with Project Manager for small job installation
Other duties as assigned
Requirements:
EXCEPTIONAL customer service and phone skills
Minimum 2 years of administration with experience in customer service
Math and analytical skills
Strong communication skills
Excellent computer skills, including proficiency in Microsoft Office, and prior experience working in a database
Proficient in data-entry
Proven ability to handle multiple administrative responsibilities and attention to detail in a fast-paced environment
A self-directed individual who can work autonomously on projects and job duties as assigned
Highly organized and detail-oriented
Experience in the home improvement industry is a plus
Extensive Benefits include:
Medical – up to 75% of premium & HRA of $2K/$4K paid for by Company!
Dental, Vision, Life, and Disability Insurance
401K Match
Paid Time off and Holidays
As well as:
Access to tickets to PromoWest concerts and sporting events!
About The Basement Doctor: We are a licensed general contractor that repairs basements, foundations, and crawl spaces. We've been in business for over 31 years and our customer satisfaction rating is over 95%!
You can feel good knowing that The Basement Doctor was selected as one of Columbus CEO and 10TV's Top Workplaces for 2015, 2016, and 2017! We are also very involved with Ronald McDonald House, LifeTown, and Special Olympics of Ohio!
The company is an Equal Opportunity Employer.
Proven record of dependable work history and ability to work in a drug-free environment are essential.
OFFICE LOCATION:  
13659 E Main St. Reynoldsburg, OH 43068
PHONE:  
1-877-379-8463