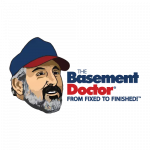 The Basement Doctor Akron
Join The Basement Doctor Team
We work year-round and have multiple openings. This is NOT a temporary job.
Candidate must be comfortable with performing basic hands-on mechanical fixes? Explaining repairs and suggesting upgrades? Have a valid driver's license and are drug-free? We need to talk! HVAC is a must!
Our Annual Maintenance Techs run pre-scheduled appointments with our customers and perform maintenance or warranty duties for our waterproofing, crawlspace, and foundation customers in their homes. They also evaluate the property and alert the homeowners to other concerns and if necessary sell additionally related repairs. We provide the appointments, training, tools, and a company vehicle!
Key Skills to Have Are:
1-2 years Electrical and/or HVAC Preferred
Integrity
Basic hands-on mechanical skills
Ability to relate, explain benefits and resolve problems
Suggest and sell additional repairs
Ability to legibly write, take accurate notes and draw basic diagrams
Be flexible and work as part of a team
Please respond with your resume and apply today!
We provide:
Competitive Wages
Substantial Incentive Bonuses
Training
Mentoring
Certifications with potential advancements to move up in the company over time.
Employee Benefits Include:
Medical – We pay up to 75% of the employees and family premium!
Dental, Vision, Life, and Disability Insurance
We also pay for Short Term Disability and Basic Life Insurance
401K Match
Paid Time off and Holidays
Some employees will have company provided work vehicles.
You can feel good knowing that The Basement Doctor was selected as one of Columbus CEO and 10TV's Top Workplaces for 2015, 2016, 2017 & 2018! Our customer satisfaction rating is 95%!
If you have no opportunity to move up or grow with your present employer- WE PROMOTE FROM WITHIN! Check out a place where you will be appreciated and earn a stable lifestyle!
About The Basement Doctor: We are a licensed general contractor that repairs basements, foundations, and crawl spaces. We've been in business for over 31 years and our customer satisfaction rating is over 95%!
You can feel good knowing that The Basement Doctor was selected as one of Columbus CEO and 10TV's Top Workplaces for 2015, 2016, 2017 and 2018! We are also very involved with Ronald McDonald House, LifeTown, and Special Olympics of Ohio!
To become part of the Basement Doctor Family you must meet these minimum requirements:
Proven record of dependable work history.
Valid driver's license with no major violations in the last 5 years.
Ability to work in a drug-free environment is a must.
Military and/or Construction Experience a plus, but not required.
The Company is an Equal Opportunity Employer.
About The Basement Doctor: We're the leader in our industry and have been in business for over 30 years! Our offices are in Reynoldsburg, and we cover all of central Ohio. The success of The Basement Doctor lies within our dedication to quality, responsibility, and integrity. Our staff, products, and network are all founded on our belief in these ideas. We ensure that our salespeople are highly trained and focus on associate growth.
OFFICE LOCATION:  
3755 Cleveland Rd, Wooster Ohio 44691