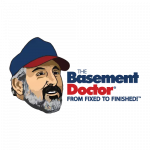 The Basement Doctor
From Fixed to Finished
The Facilities Maintenance Tech is responsible for the overall upkeep of the property landscape and the exterior image (Curb Appeal) as well as both facility warehouses. Duties include maintaining of the lawns, driveways, parking lots, curbs, dumpster areas, exterior hallways, or any other areas, maintenance of property flowerbeds, plants, and grass areas. Inspects facility daily for waste, abuse of policy, and repairs or maintenance needs.
Essential Job Duties and Responsibilities:
Performs lawn mowing, trimming, edging
Spring & Fall cleanup
Responsible for care, maintenance and inventory of all supplies and equipment owned by the property and/or the management company related to grounds work.
Sweeping
Responsible for light/basic tree and bush trimming
Assists Maintenance Manager as requested, including but not limited to, preventative maintenance to buildings including painting, light plumbing, light electrical and HVAC maintenance.
Snow removal and salting (When applicable)
Light computer work and scanning/copying
Please respond with your resume and apply today!
Extensive Benefits include:
Medical – up to 75% of premium & HRA of $2K/$4K paid for by Company!
Dental, Vision, Life, and Disability Insurance
401K Match
Paid Time off and Holidays
As well as:
Access to tickets to PromoWest concerts and sporting events!
You can feel good knowing that The Basement Doctor was selected as one of Columbus CEO and 10TV's Top Workplaces for 2015, 2016, & 2017! Our customer satisfaction rating is 95%!
If you have no opportunity to move up or grow with your present employer- WE PROMOTE FROM WITHIN! Check out a place where you will be appreciated and earn a stable lifestyle!
You can also stop by our office at 13659 National Rd SW in Reynoldsburg from 8am-5pm, M-F to fill out an application and have an onsite interview!
Proven record of dependable work history, a relatively clear driving history, and the ability to work in a drug-free environment are essential.
Company is an Equal Opportunity Employer.
About The Basement Doctor: We're the leader in our industry and have been in business for over 30 years! Our offices are in Reynoldsburg, and we cover all of central Ohio. The success of The Basement Doctor lies within our dedication to quality, responsibility and integrity. Our staff, products and network are all founded on our belief in these ideas. We ensure that our sales people are highly trained and focus on associate growth.
OFFICE LOCATION:  
13659 E Main St. Reynoldsburg, OH 43068
PHONE:  
1-877-379-8463